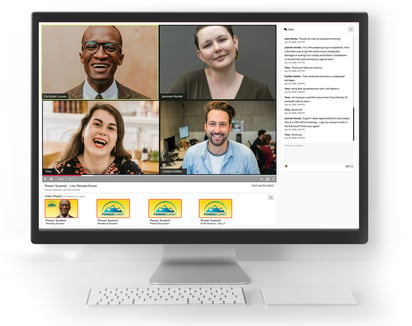 ViewStub announced this week the release of native streaming capabilities within their virtual event platform. This new capability enables organizers to monetize and stream their live events - all on a single platform. And now with native live streaming, organizers can stream live directly from the ViewStub platform while enjoying several additional capabilities that will help them connect more closely with their virtual audience than ever before.
Previously, ViewStub supported live streaming but only through a third-party streaming service. Organizers will still have the option to continue using an outside service like StreamYard or OBS to stream their events, however purchasing a third-party streaming service is no longer required in order to live stream an event through ViewStub.
What is Native Streaming?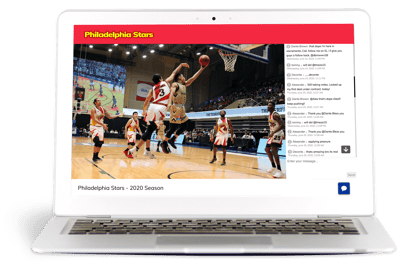 Native Streaming can be best defined as the act of streaming live content directly from one place (website, phone, platform) as opposed to using additional third party software to broadcast the live experience. As it relates to events, native streaming allows an event organizer to live stream their event experience directly from the hybrid or virtual event platform of their choice.
Live streaming events are ideal for audiences who can't travel to the event location or as an alternative when the venue has reached its capacity. They provide real time access to content as it is released to the general public. Live streams are the virtual format of choice for well anticipated events like live music concerts, product launches or sporting events.
Why is Native Streaming Critical for Events?
Live streaming is just that, it's LIVE - there's no room for error. Choosing a platform that offers native streaming gives the user an all-in-one event tool that can host, promote, collect registrations, and stream the event live to the world. Most virtual event platforms achieve this through a third-party solution to stream live video across the internet. By removing the need for third-party software, it makes it easier than ever for the event organizer and their respective team to stream the event confidently, without the technical expertise needed to merge these solutions together. In the past, live stream events were more error prone due to the complexity of combining multiple software applications in order to broadcast these events. Now with the ability to stream natively, organizers have all the tools they need to successfully host the live event from start to finish on a single platform.
We sat down with our senior web developer, Tyler Roland to give an in-depth look at this new feature and explain why it's a game changer for streaming virtual events.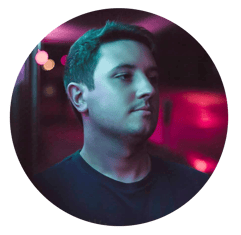 "ViewStub's native streaming is perfect for today's environment where people have been isolated for extended periods. It enables viewers interact with presenters in real time, just like they would at an in-person event."
Q: Thanks for Joining us Tyler. Would you mind introducing yourself and your current position at ViewStub?
A: My name is Tyler and I'm the senior web developer here at ViewStub, in charge of new feature development and overall platform optimization.
Q: ViewStub just recently announced the launch of it's native streaming feature. Could you give us a brief explanation of what that is?
A: Many streaming services require the use of a third party platform in order to broadcast your live videos, and some of those platforms include StreamYard, OBS, and others like them. The native streaming we introduced this week enables you to go live right from your webcam or an attached video camera with no extra set up involved. It's a nice, simple way to get your face and your voice out to your viewers.
Q: Could you list some of the benefits of streaming directly from one platform as opposed to using third party software?
A: It makes planning virtual and hybrid events easier. Our native streaming reduces overhead costs by removing the need to purchase additional streaming software or hiring streaming experts as an addition to your AV team. Streaming in a native environment improves latency and stream quality, while delivering a stress-free live experience. It also eliminates compatibility issues that can occur while streaming through a third party such as conflicts between using multiple software solutions and stream key issues.
Q: ViewStub has a number of features that support virtual events. Why did ViewStub choose to add native streaming to the already robust platform?
A: Native streaming was a no-brainer for us, our goal is to enable users to host their events the easiest way they can - with the least amount of worry of "how" to actually host their events. And offering flexible solutions was the best way we thought to approach it. We realize that some events may still prefer to use a third-party streaming platform due to their specific effects or custom features. But some events just need a way to allow attendees to participate on screen or interact with the presenter, this new feature allows them to do just that on one virtual platform.
Q: How will this new capability impact your customers?
A: This new capability will enhance our current offering and give organizers an integrated solution for live streaming. The all-in-one setup also makes it more attractive for new users who are trying out the virtual event space for the first time.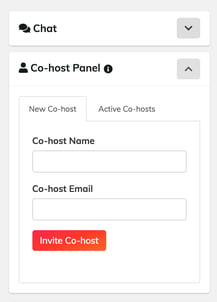 Q: I understand this new functionality will enable attendees to use their webcams to interact with speakers. How does this improve the virtual experience for both the event organizer and the attendees?
A: Absolutely, this new feature definitely allows speakers to interact and engage with viewers. We've created a way for attendees to indicate whether or not they would like to actively participate in the event, and the speakers can invite those attendees on screen for real-time voice and video interaction. We allow up to 12 participants to be in a session at a time, and enable them to cycle in and out in a way that is natural for the event. We've also included functionality to enable presenters to add "co-hosts" for each session, which can be anything from event moderators to guest speakers. These co-hosts will also have the ability to engage with and invite their attendees to speak on screen during their sessions.
Q: It sounds like this feature would be great for breakout sessions as well. Could you explain to us how that would work in an event scenario?
A: Of course, so right now we offer a video playlist where the organizer can create as many videos or sessions as they'd like. One example could be that the first session in the playlist is the "main event" and other sessions could include panels, breakout rooms, meeting rooms, networking sessions, or anything else the event could need. Viewers can freely come and go between the sessions, and each session can allow up to 12 different participants speaking at a single time.
Q: How does ViewStub's native streaming ensure optimal speed times and reduce buffering?
A: The biggest thing we've done for this is removing the need for third-party services and centralizing live streaming straight from our servers. Our native streaming removes the dependency on other platforms' speed, network, and server strength. We also include a network connectivity test right in your event so you can test the strength of your current network connection.
Q: From a technical standpoint, what is your favorite aspect of this new native streaming feature?
A: My favorite part about the new feature is that it has everything you like to see in modern technology. It's simple to use and it's incredibly functionally diverse, allowing engagement in a variety of ways that we didn't offer before. We've taken a vanilla concept and we've added a considerable amount of flavor to it. And what I mean is we've taken live streaming from having one person on the screen to being able to invite users from all over the world to speak, engage and hold incredible conversations with other viewers. It's really the perfect thing for today's environment where people have been isolated for extended periods of time. Live streaming simply enables attendees to get involved and interact more closely like they can at in-person events.
Q: Does ViewStub have any other feature announcements you would like to tell us about at this time?
A: We are always working on new and innovative technology here at ViewStub. There's plenty I'm not allowed to talk about yet, but we have some really cool features you'll want to see coming out very soon. So stay tuned!
Thanks for taking some time to speak with us Tyler.
Absolutely, thank you for having me!